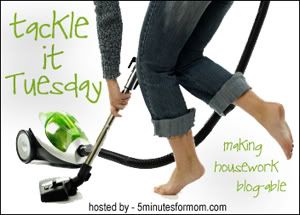 I am beginning to LOVE Tackle It Tuesday! For some reason, the accountability of posting the projects that I tackle just seems to motivate me. So, today I decided to tackle the never-ending battle that I seem to have with the laundry. I'm telling you it multiplies around here! This morning I began washing clothes before 8:00am and at 4:00pm I still have 3 loads to go. I know I shouldn't let it pile up, but I do. However, by the time I go to bed tonight I am hoping that all of the clothes in our house will be clean! YIPPEE! Below is a pic of some of the clothes that I have washed today. After they came out of the dryer I just piled them on our bed. After about 4 loads I folded and put them away.
Do you have a plan for keeping the laundry under control at your house? If so, please share your secret. I really think one of my goals for 2009 is going to be to wash a load of laundry everday..that includes washing, drying and putting them away! Also, head on over to
5 Minutes for Mom
to read about all of the other projects that have been tackled today!